A report by PwC indicated that consumers do not expect perfection from organizations, they expect respect. Therefore, they are willing to give second chances to organizations that practice transparency. Insights on how the level of transparency impacts consumers' willingness to forgive brands have been curated and provided below.
Transparency and Forgiveness Between Companies and Consumers
Several credible sources have reported that consumers prefer brands that own their mistakes and are forthcoming with company information. 61% of consumers believe that admitting mistakes portrays a company's transparency. Other topics that consumers feel they demonstrate transparency when brands talk about them in social media platforms can be seen in the image below.
With 86% of Americans believing that transparency from companies is more important than ever, approximately 9 out of 10 people are more likely to give second chances to brands that are transparent while a further 85% are willing to stick with them through difficult moments. Another 89% of the participants in the Sprout Social survey indicated that a company can regain their trust if it admits its mistake and also be transparent about how issues are being resolved.
Another report by PwC also states that consumers are willing to forgive companies when situations such as breaches of data occur. However, in order to gain their trust back, a company has to be transparent about what happened, how the situation is being resolved, as well as implement real and effective changes. An article by The Business Journals also concurs with this stating that owning a mistake and telling the truth without delay can help a brand retain its customers.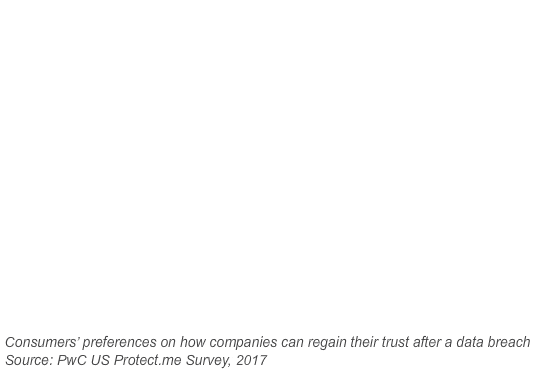 Research Strategy
Data on how transparency plays into forgiveness around new technology products was not readily available in the public domain. We searched through media publications and industry reports among other credible sources to determine if we could find a direct relationship on how transparency plays into forgiveness in the mind of the consumer when it comes to new technology products, but unfortunately, our strategies were fruitless. Therefore, we leveraged data from other sectors outside the tech industry to compile the above findings.