Indeed was founded in 2004. They have experienced a great amount of growth in the last several years. Although the pandemic has put a large dent in their Q1 revenues, Indeed remains the top online job search tool and has over 440 million unique visitors per month. Over 3,000,000 companies use Indeed. They plan on building upon this success by expanding their recruitment market efforts in the future.
Overview
Indeed was founded in 2004, by Paul Forster and Rony Kahan.
 Andrew Hudson, the CTO of Indeed, wanted to ensure that no one forgot about their philosophy of putting the job seeking first. To remind everyone, he ordered an orange chair to be put in the meeting room so that the job seeker would always have a seat at the table. "Since then, the orange chairs have kept us focused every day on putting job seekers first, and we've grown to help over 250 million unique visitors per month find jobs", according to Indeed.
Key Personnel
Headquarters
Indeed is headquartered in Austin, Texas.  
There are offices located in Austin, Dublin, London, San Mateo, New York and Stamford. Outside of the US, Indeed has offices located in Amsterdam, Dublin, Düsseldorf, Hyderabad, London, Paris, Sydney, Tokyo, Zürich, and Toronto. Overall, there are offices in 29 cities in 14 countries.
Revenue
Recruit's 2019 Revenue- $22.06 Billion
Indeed and Glassdoor make up Recruit's HR Technology segment. In 2019, their combined revenue was $3.11 billion, a 47.4% YOY growth. They do not break this down by separate companies, but Indeed makes up the majority of this revenue.
Effects of Pandemic
Indeed made several changes to their website due to the pandemic. They now mark jobs that are actively hiring, remote possibilities, and the ability to add #readytowork to a resume, indicating the job seeker has lost their job due to the pandemic.
Indeed has a COVID Resource page for applicantsand a separate page for employers. Topics covered are supporting parents, mental health, attracting talent, taxes, furloughs, companies that are hiring now, free webinars for applicants, how to best use the site during COVID-19, and resources by state.
Recruit issued their Q1 Financial Highlights recently. Revenue is down 20% YoY from 594.4 billion yen in Q1 2019 to 475.4 billion yen in Q1 2020. The adjusted EBITDA is down 38.8% YoY. Their operating income is down by 62.6% YoY.
Specifically, in HR Technology, the segment that Indeed operates, revenue decreased by 25.8%. This was driven by a decrease in sponsored job advertising and a reduced demand for recruiting solutions. Adjusted EBITDA decrease be 59.4% YoY, due to the decline in revenue. Q1 revenue was $689 million.
Due to the uncertainty and rapidly evolving global conditions, they did not make any predictions, since they felt it could not be done reliably. They fully expect the current economic conditions to have a "significant adverse impact" on Q2 financial performance and beyond.
In July, the revenue exceeded that in June, but it still had decreased 15% YoY, which was slightly worse than in June. HR Technology did slightly better with a 7% reduction YoY.
   
The pandemic has had devastating effects on employment rates, so it is understandable that it is a chief driver of the market. With US still battling the virus, and no end date in sight, this has changed not only the number of jobs, but how people look for jobs.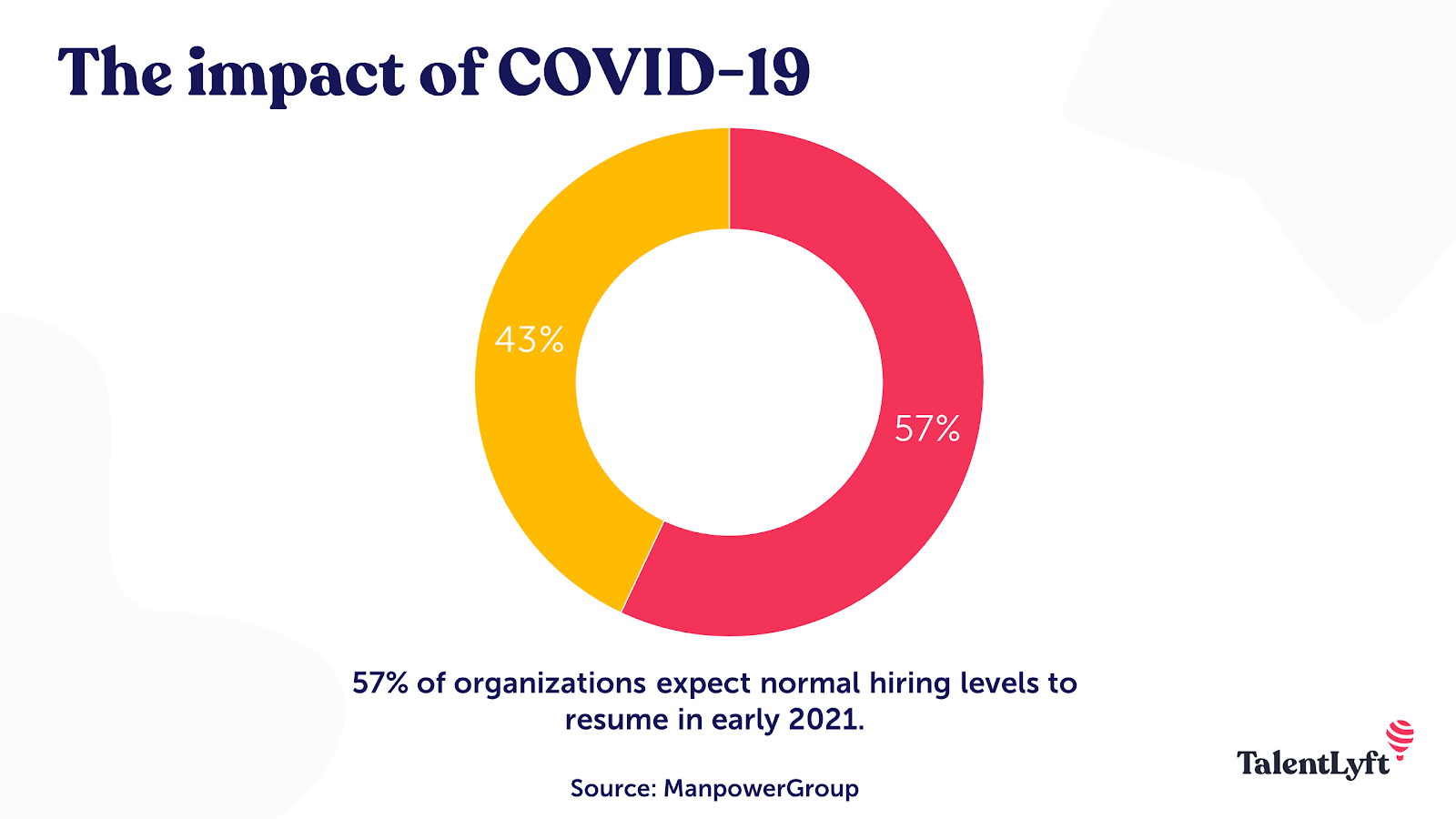 Market Share
Another analysis broke down their numbers further to come up with 31% of all hires. This number makes more sense and is line with the market share shared below.
According to SilkRoad, Indeed delivered 65% of all hires made in the United States from online sources in 2016, which represents a further widening of an already commanding lead.
Funding
Indeed has had one funding round. In 2005, they raised $5 million in a Series A round.
They are funded by three investors. Union Square Ventures, and The New York Times are the most recent investors.
Mergers & Acquisitions
Indeed was acquired by Recruit on October 1, 2012.
Indeed has acquired 5 different organizations. Their most recent acquisition was ClickIQ on July 12, 2019. Syft was acquired in earlier in 2019, followed by Resume.com in 2018, Interviewed in 2017, and MoBolt UK in 2014.
They invested in Upshift on March 3, 2020.
Business Segments
Indeed has two business segments, one for job seekers, and one for employers. These segment and their offerings, are explained below.
Product Offerings
Job Seekers
 Job seekers have multiple ways to search, can save their searches, and can pick up where they left off. They can also upload their resume, read company reviews from Glassdoor, and find salary comparisons. This is a free service.
They can also locate the top schools and certifications in their area.
Employer Job Postings
Employers can add screening questions and have access to a candidate dashboard. They also have access to an employer community.
Indeed Resume
 Indeed Resume lets employers search through millions of resumes.
Employers can use this as a free service with limited functionality. They can not contact candidates with the free service.
To be able to contact candidates a subscription must be purchased.
Indeed Hire
Indeed Mobile Recruiting
Indeed offers a simplified process that is mobile optimized, considering that 75% of job search traffic comes from mobile.
No pricing information was shared.
Indeed Apply
 Indeed Apply uses an integrated Applicant Tracking System (ATS) so job seekers can find and apply for jobs.
Indeed works with multiple ATS to optimize the hiring process. Some of the main ATS they work with are Applicant Pro, Workable, Wizehire, ApplicantStack, Talenteca, and Breezy. The full list may be viewed here.
Jobs posted this way receive up to four times more applicants.
No pricing information was shared.
Indeed Hiring Events
 Indeed Hiring Events are a turn key solution for high volume hiring. These events can be in person or held virtually with the virtual interview platform.  
The employer can post their event, post screening questions, time slots, communicate with candidates, interview and hire during the events.
There have been 30,000 hiring events to date, in 3,500 cities, with over 4 millions RSVPs.
No pricing information was shared.
Using Indeed Hire, on average, results in six times more hires per recruiter.
Indeed IQ
 Indeed IQ balances spending in real time to deliver applications that fit the needs of the employer.
This is an automated process that offers campaign management.
The dashboard provides analytics and insights into how a campaign is doing. They also provide recommendations for roles that are harder to fill.
Avis Budget Group was able to generate 521 application for a job in 60 days. Maria Mallaband Care Group reduced their cost per application by 52%.
No pricing information was shared.
Indeed Assessments
Indeed Hiring Lab
 The Hiring Lab is an international team of economists that provide insights on the global labor market.
Current Business Strategies
HR Techonology Specific Strategies
Future Business Strategies
With their core business being online job advertising, Recruit wants to get into the recruitment market, as it is significantly larger. They see a "huge opportunity to disrupt this market and deliver a better solution to job seekers and employers".
Partnerships
Through a partnership with Goodwill, Indeed has committed to helping one million job seekers that are facing challenges to find employment by 2024. They are offering online assessments, event management, and training tools to Goodwill job seekers.
Through a partnership with the Irish Olympic team for Tokyo 2020, Indeed will collaborate and create a program of workshops mentoring, and job placements for athletes to help them manage their careers.
Indeed has several "certified recruitment partners" that may be viewed here.
Key Performance Indicators
Website Statistics
App Statistics
Media Spend Insights
Media Radar states that they spend over $100 million yearly. This website only provides very general spends like, over a million, ten million, etc.
Their digital market strategy is focused on direct landings to their site, followed by searching. (46.14% and 41.16%). Only 0.08% of their traffic is from display advertising.
Marketing Campaigns
Since there was little information on their media spend, research was conducted to locate their recent marketing campaigns.
 2017– "Search for Greatness" campaign that dealt with racism, ageism, and sexism.
 2018– 4 new commercials that were aired as stories to set themselves as a career platform and not just a search engine for jobs.
2019- They advertised on 13 podcasts including the ESPN Stephen A. Smith Show, Ten Percent Happier, and This American Life. They also advertised on Snapchat.
 2020– They have run ads in Harvard Business Review, Fox Sports, and MSN.com. They also ran an Oscar Ad on the Moon landing. The concept was great moments are the work of many.
In the last 30 days they have run 6,943 ads on TV.
A Google Doc has been created that shares digital advertising, YouTube advertising, and relevant screenshots of television advertising.
Press Releases/Blog