Financial Surveillance Technology Solutions: Market Size
The global trade surveillance market was valued at $717.4 million in 2019. The trade surveillance systems solutions help financial institutions and market experts in spotting fraud, erroneous, or abusive trading. The market has grown considerable since 2016, when it was worth roughly $600 million. The market is expected to grow at a CAGR of 19.7% until 2027.
The financial surveillance technology solutions industry
 Data breaches and unlawful trading in financial institutions are the major factors that are contributing to the rapid adoption of trading surveillance.
According to Grandview Research, Europe was the biggest region for the industry, with more than 30% market share in 2019.
Research Strategy
We focused our research by going through several industry reports from PRNewswire and Grandview Research but the only information we could find on the financial surveillance market was related to trade surveillance. As information was rather limited on financial surveillance, we decided to go through different type of financial surveillance technologies and add the market sizes to determine the global financial surveillance market size. However, we weren't able to find information on anything related to financial surveillance other than trade surveillance. As trade surveillance systems help financial institutions and market experts in spotting fraud, erroneous, and abusive trading, we decided to include that in our report as a proxy for financial surveillance technology solutions.
Financial Surveillance Technology Solutions: Global Players
Financial Surveillance Technology Solutions: Market Overview
The state of the global financial surveillance technology solutions market is influenced by the types of players entering the space, such as fintech providers and incumbent banks looking to sell/lease their financial crime solutions to others.
Market Insights
Financial Surveillance Technology Solutions: Chinese Digital Banks
After an exhaustive search through the industry publications, media articles, financial blogs, regulatory databases, and websites and filings of key digital banks in China, we were unable to identify any Chinese digital bank players who are looking to license or sell their financial crime solutions to other financial institutions. We were able to only find examples of Chinese fintech firms that are providing their financial surveillance solutions to the Chinese banks. Given the fact that the digital banking space in China is still developing, it is likely that these banks are currently focusing on first strengthening their own internal financial surveillance framework before starting to commercialize the same. Below is an overview of our helpful findings related to the research.
Helpful Findings
What are The Top Cities for Financial Crime?
This report collects cities around the world with a notably high level of financial crime. A ranked list or comparative numerical values could not be provided to a lack of publicly available knowledge (as outlined in the Research Strategy below). The cities assembled include London (notable for its high rate of money laundering), Richmond, VA (where the number of financial crimes is high), Chicago, IL (the highest ranked on the High Intensity Financial Crime Area list), and Frankfurt, Germany (with 66 percent of German businesses experiencing a financial crime in 2018). The U.S. is considered to have the highest rate of financial crimes in the world, per a 2018 survey.
Global Cities with a High Level of Financial Crime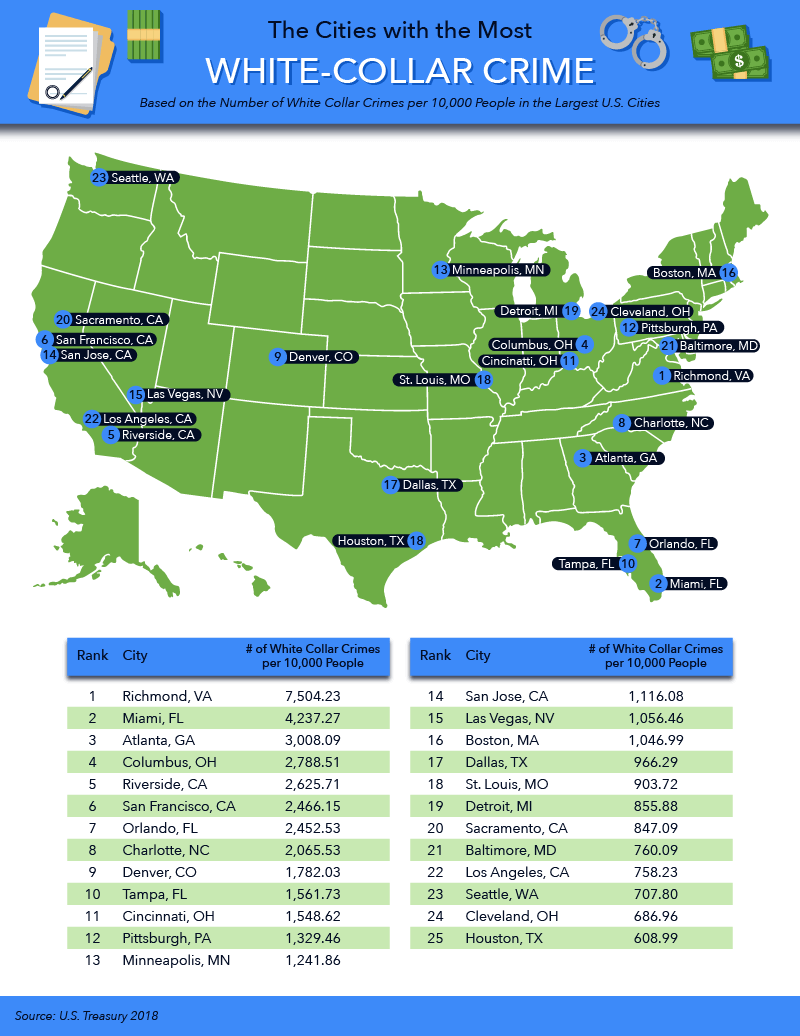 Chicago, Illinois, United States: Chicago is the only city listed by name on the High Intensity Financial Crime Area list maintained by the U.S. Financial Crimes Enforcement Network (and one of the few regions in bright red for the highest level of financial crimes). However, statistical data related to why Chicago is on this list is not provided by this agency. An external agency list Chicago as having the greatest number of fraud rings in the country, indicating substantial financial crime.
Miami, Florida, United States: Miami is 4th in the U.S. for the number of fraud rings it hosts and second for the number of money laundering scams in the country (4,237.27 per 10,000 people). It was listed as top in the country for overall fraud.
Columbus, Ohio, United States: Columbus, Ohio is notable for having the highest rate of identity crime theft in the United States with 367.89 crimes per 10,000 people as well as the highest rate of forgeries. This is more than double the second-ranked city, San Francisco, which has 138.67 crimes per 10,000 people. The full listing is shown below:
Related Findings
The UN estimates the amount of money laundered globally to be between $800 billion and $2 trillion.
The U.S. is perceived to have the highest rate of occurrence of all types of financial crime, including bribery and corruption, money laundering, fraud, theft, cybercrime, and slavery, according to a 2018 survey of international business leaders.
Research Strategy
An aggregate list of global cities ranked by the highest amount of financial crime does not appear to be publicly available based on a media scan, a U.S. federal government scan, and a scan of industry news. This may be due to a lack of sufficient law enforcement for investigation and reporting in some areas, a lack of domestic and/or international reporting to a centralized body, or a lack of involvement by financial institutions. Additionally, international agencies that publish risk assessments for money laundering are subject to manipulation by countries with financial sway.
However, several cities were able to be identified individually based on media reports and U.S. federal data. These cities or regions were outlined above, though comparative numerical figures for each listing could not be provided.
Financial Crime: Overview, Global
The size of global financial crimes was estimated at approximately US$5.8 trillion in 2018. The three biggest global financial crimes include fraud (US$2.6 trillion), counterfeit and piracy (US$1.9 trillion), and drugs trafficking (US$580 billion); and they all account for 90% of all global financial crimes. Additional details have been provided below.
Size and Growth of Financial Crime
Financial and Non-FinancialEffects of Financial Crime
Financial Crime: Bank Spend, Global / APAC
According to the 'True Cost of Financial Crime Compliance Study' published by LexisNexis Risk Solutions, financial institutions across the globe spend a collective $180.9 billion for fighting financial crimes. The total spending in the APAC region is $6.1 billion. The average spending by financial institutions globally on the fight against financial crimes is $4.2 million (for financial institutions with total assets <$10 billion) and $24.7 million (for financial institutions with total assets $10 billion and above). The corresponding average spending by financial institutions in the APAC region is $1.9 million and $11.4 million, respectively. In the absence of data pertaining exclusively to traditional banks, financial institutions like banks, investment firms, asset management firms, and insurance firms have been considered as suitable proxies. The key findings from the report have been presented below.
Overview of the 'True Cost of Financial Crime Compliance Study'
Spending Data From the Study
Key Challenges Facing Financial Crime Compliance Across Regions
Every global region has some major challenges that impact financial crime compliance. These challenges are as follows:
Financial Crimes: Typical Bank Solutions
Banks worldwide still heavily rely on manual processes to handle financial crimes, despite increasingly technology adoption. AI and ML are expected to be widely utilized in the next five years. However, for now, a large proportion of financial crime compliance budgets are still being allocated towards labor, not technology.
Overview
1. Manual versus Automated
2. Technology
The International Institute of Finance (IIF) states that banks worldwide are investing more in cybersecurity and risk tools, but are still evaluating the return of these investments, particularly midsize and small banks
Research suggests that technology alone is not enough to prevent financial crimes. For example, banks worldwide stated that it takes hours of manual labor to clear false positive alerts, and over half of bank executives surveyed by KPMG reported "false positives hampering efficiencies in fraud detection."
Another issue reported by IIF is how quickly technology is developing, leaving banks "constantly playing catch-up on cybersecurity."
 
3. Third-Party Risk Management
According to analysis conducted by IIF and EY, the "industry's decade-long transition from procurement to vendor management to third-party risk management has shone a light on the role of second-line risk management. Today, almost half (47%) of banks have their second line set the policy framework, rather than the first line, and about the same proportion (52%) challenge how the first line implements the bank's third-party risk management framework.
Larger banks have taken on these roles "somewhat more than their smaller competitors, suggesting the industry is maturing toward a model where the second line takes a more prominent role as banks grow in size. About a quarter (28%) of banks' second-line functions focus on identifying emerging risks and trends associated with third parties, while nearly as many set firm-wide risk appetite statements (23%) and metrics (22%) around those risks."
The vast majority of banks maintain a list of critical third-parties (97%). However, the criteria used to assess these providers have changed over the last decade. Initially, "it was heavily weighted toward total spending and financial impact. Today, key determinants include the impact on the firm's resilience strategy (66%), the type of data and systems accessed (61%), and the sensitivity of data used (54%)."
Banks that are Considered Best in Class Around the Prevention, Monitoring/Detection and Resolution of Financial Crime
1. Marks and Spencer Bank (M&S)
2. Koho Bank
3. Mitsubishi UFJ Financial Group (MUFG)
4. Nationwide Building Society Bank
Based on a survey conducted by Which? Magazine in the U.K., one of the best banks that got the highest score when dealing with fraud-related concerns is the Nationwide bank.
The bank got a 90% score in the overall response to fraud category from the respondents.
 Nationwide BS is a traditional bank that provides financial services through its physical branches and on its online channels.
The bank stated that it is constantly looking after the safety of its depositors' money. It also mentioned that it is encouraging its clients to continue to know more about the impact of fraud.
The company has a dedicated Fraud division that provides all-day support to its clients. It has also established a solid process for detecting fraud.
The bank has also kept a "culture of fraud awareness and prevention" as it continues to build "safe and secure" solutions.
The bank also stated that it aims to be always compliant with regulations to help prevent fraud.
It is also continuously evaluating its fraud controls to maintain its effectiveness and robustness.
The bank also ensures to aid law enforcement entities in any suspected fraudulent activities or ongoing cases.
The bank also ensures to educate its clients to keep them safe from fraudulent elements. It regularly posts detailed guidelines and instructions on its website and social media accounts to ensure that its customers are aware of the various ways to detect and avoid any fraudulent incidents. The bank also gives out flyers at its branches to further educate its clients on fraud prevention.
5. Monese Bank
https://.com/69560/25-direct-online-digital-banks/
 Financial Brand.  Monese is one of the notable banks that was featured in the list of digital-only banks by
The bank allows its customers to open "current accounts with a contactless prepaid debit card." Opening an account is free and can be accomplished within two minutes from any smartphone.
The bank's services can be accessed in 20 countries by European residents.
Monese was accepted as a member of Cifas, the biggest fraud sharing association that encompass all industries. As a member, Monese will collaborate with the group to combat fraud.
The digital bank is also establishing its internal team of data scientists to build advanced artificial intelligence solutions that can help in detecting fraudulent activities even without human intervention.
The bank has also posted several instructional materials and guidelines on its website to help its customers detect fraudulent transactions on their accounts. The instructions also include details on how to protect their account, get help, and prevent other fraudulent activities.
 Monese's app already got over a million downloads and has gotten positive responses from its users.