Goals
To provide an overview of the recent trends and attitudes in home-ownership in the U.S., including: how "safe" home-ownership is currently perceived in light of the challenges caused by the COVID-19 pandemic, such as unemployment; whether renting will become more preferred in 2021, as opposed to home-ownership; the difference in attitudes towards home ownership for different markets (urban, suburban, rural), generations, and ethnicities; the audiences that are most likely to buy new homes in 2021, and why. Only data/information from 2017 should be used.
Check out this high-level overview reports where we provided information about;
---
Homeownership rates, trends, and preferences in the United States are going through profound changes due to the pandemic. Some aspects are changing rapidly, and reports as recent as April 2020 may no longer apply. At the same thing, some preferences, behaviors, and market conditions remain the same. Given the current situation, the report is mostly based on reports and analysis from the past two months, with some selected insights from Q3 and Q4 2019 and early 2020 that were considered relevant. A copy of the findings, including all the charts used, can be found in the attached slide presentation.
2021 Buyers
Group #1: First-time Buyers
Enticed by record-low mortgage rates, first-time buyers are driving the residential real estate market. Since investors are retreating from the market, young first-time buyers are facing less competition, even with the limited house inventory resulting from the pandemic (down 20% as of May 2020).
A survey conducted in April by Lending Tree reported that 66% of first-time buyers are millennials. According to Realtor 2020 forecast (COVID-19 updated), the "limited number of homes for sale will keep home prices relatively stable and this may give buyers using a mortgage (especially Millennials) some relief against investors and other cash-heavy buyers who are expected to play a smaller role."
For instance, in the first quarter of 2020, first-time buyers purchased 456,000 single-family homes, a 14% increase over the same period last year. They also accounted for 40% of all single-family buyers during the same period.
According to Tian Liu, chief economist at Genworth, it is not surprising that these buyers are behind the market bouncing back in May after a rapid decline in April. "You have a very ready first-time homebuyer population," he said, adding that "many U.S. millennials are now in their mid- to late-30s, the prime age for starting families and forming households."
However, it is important to note that first-time buyers are facing challenges as well. Unemployment rates are rising, lenders are becoming more selective, prices are rising, and many have dipped into their savings to survive the pandemic. Like other markets, uncertainty is still the norm.
Group #2: Single Women
Married couples are the most significant group among home buyers (61%), and the most diverse, which is why the group was not included as a potential audience since it would be far too broad to classify. However, a smaller group that has been growing in the past few years, and it is likely to continue to grow, are single women.
 Seventeen percent of homebuyers in 2019 were single women, versus 9% single men and 9% unmarried couples. Women are also more satisfied with their homeownership experience, more willing to buy homes, and make more sacrifices to pay for their mortgages.
Women tend to value neighborhood and outdoor space more. They are more likely to be caregivers and to buy multi-generation homes to care for aging parents or children over 18 than their male counterparts. They are also an underserved group. Research has shown that single women tend to default at a lower rate than single men, yet, they are often viewed as riskier clients.
Overall, women are being hit harder by the pandemic. While they represent 49% of American workers, they accounted for 55% of job losses in April. However, closer examination shows that these numbers are associated with specific industries, low-wage jobs, and minority women, which were already underrepresented among home buyers.
When looking at college graduates, women are more likely to have the opportunity to work from home, especially those who are white or Asian, which are also groups more likely to be homeowners. Research conducted by the Pew Research Center shows that women that have the option to telework are less likely to lose their jobs.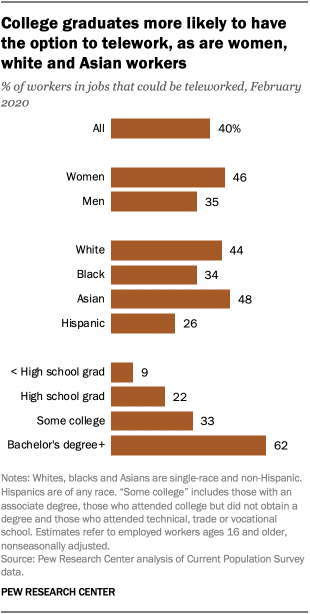 COVID-19 may also increase the number of single women looking for new homes, given that experts anticipate the pandemic will cause a surge in divorce rates across the country.
Some metro areas show a higher gap of homeownership between single women and men than the national average, such as Oxnard, CA (15%), El Paso, TX (15%), Durham, NC (14%), San Jose, CA (13%), Colorado Springs, CO (12%), Jackson, MS (12%), Chattanooga, TN (11%), Lakeland, FL (11%), among others.
Group #3: Suburban and Rural Buyers
In June, real estate experts surveyed by Zillow agreed that once the pandemic is over, there will be a surge in demand for suburban and rural homes. Buyers choosing to leave high-density urban areas will likely be an important audience for the real estate market. PGIM Real Estate also added suburban living spaces as a rising trend. There are already some signs of this trend towards suburban living.
For example, Manhattan properties in contract "were down 68% year-over-year for the fourth week of June (213 in 2019 vs. 69 in 2020), and that number still reflects properties which were signed before the pandemic shut business down." Multiple agents reported that units located in larger buildings have been more difficult to sell, as buyers worry about crowded elevators and lobbies. Motivations and attitudes towards suburban spaces will be expanded further down the research line.
 
Homeownership
Insight #1: Current State and Forecast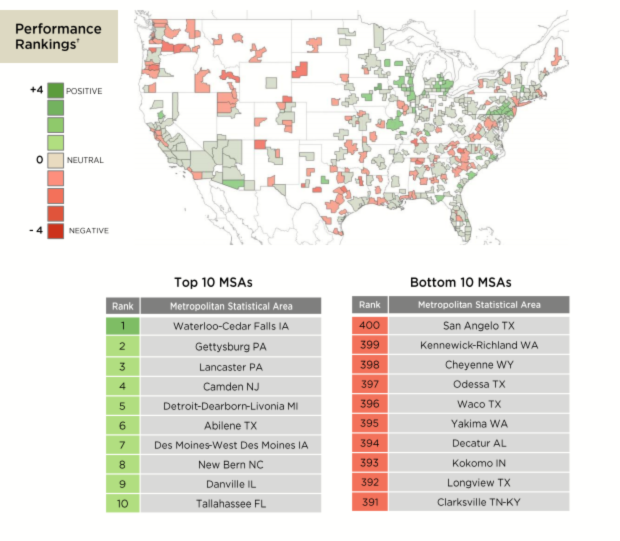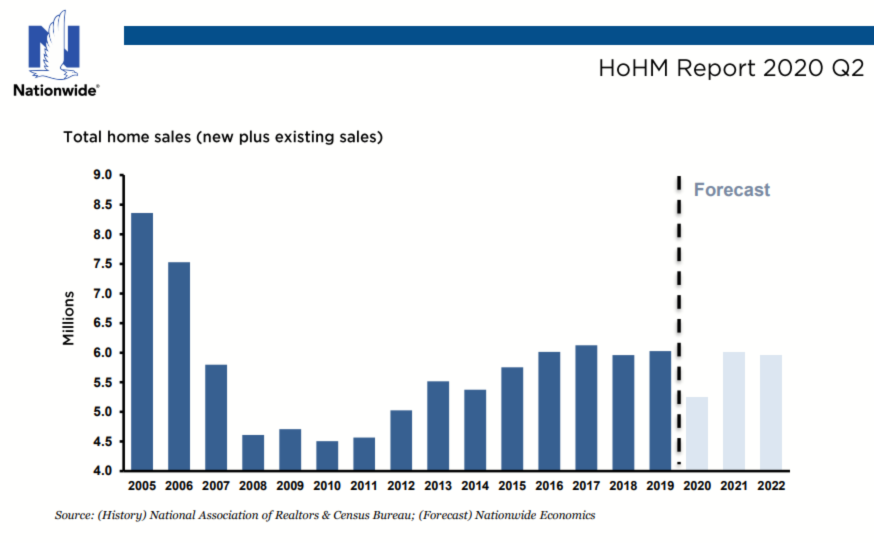 Nationwide is not alone in its predictions. Overall, most experts are expecting a "U" shaped or "V" shaped downturn. The market will experience a substantial and fast decline, but it will rebound quickly. PGIM Real Estate reasoned that necessity-driven properties, such as residences, traditionally demonstrate more resilience to the turmoil and tend to recover fast.
Zillow changed its forecast to a less grim outlook after the market started to rebound. It now believes prices will drop by 1.8% by October 2020, and return to 2019 levels by the third quarter of 2021. "Zillow's own forecast has become more optimistic as we ingest new data and watch pending sales pick up faster than expected. What does seem more consistent in this wisdom of crowds is that full recovery is a couple years away — much faster than in the last housing downturn — and remote work will eventually work its changes on the housing market."
Insight #2: Buyer's Remorse
Homeownership is often described as the "American Dream." Buyers used to report feeling happy, secure, and comfortable after acquiring their homes. However, 2020, and all the turmoil that came with it, saw buyers feeling insecure and remorseful.  
Those who bought their homes in 2020 are twice more likely to say they are feeling anxious. Sadly, they are also "nearly half as likely to say homeownership makes them feel comfortable and secure than those who bought in the last 5 years." 
Buyer's remorse is becoming more common, as well as those who report being afraid of losing their income or property value. Some made hasty decisions expecting the market to get worse, while others jumped at the opportunity to buy with lower interest rates.
The possibility of the pandemic affecting the value of their homes is especially disturbing for buyers "who have little equity in their new homes — and that worry was reflected in our data such that 58% of recent homeowners were concerned about going upside down on their mortgage."
Those who bought homes during the first two months of 2020 are more concerned about going underwater on their mortgages than those who bought after March (63% and 53%, respectively).
They may be right to worry. The national mortgage delinquency rate hit its highest level in over eight years in May, with "4.3 million homeowners past due on their mortgages or in active foreclosure." Data from June suggest that delinquencies may be leveling off.
Insight #3: Motivations
Prior to 2020, financial reasons used to be the most significant driver of homeownership. Buyers believed that owning was cheaper than renting, which they felt was like throwing money away. Furthermore, owning a home was considered a good investment by the majority of buyers.
In 2020, motivations and perceptions are shifting. Lifestyle and quality are the main motivations, albeit money still plays a part. Homeownership is no longer deemed a good investment by most buyers, who are now more likely to consider neighborhoods and freedom as priorities.
The pandemic also affected how much buyers are willing to spend. Forty-four percent of buyers surveyed by Lending Tree reported they were planning to buy a less expensive home versus 21% looking for a pricier home. First-time buyers are more likely to seek pricier properties (28%) than repeat buyers (17%).
When asked why they are buying a house at this moment, 67% said it was to take advantage of the low mortgage rates, 32% said they were able to save more for a down payment due to reduced spending, and 30% said they believe the houses would be more affordable.
There are also slightly different features that buyers are prioritizing when choosing a home. In December 2019, Clever Real Estate asked prospective buyers about their priorities (noted in the following chart as 2020 Prospective Buyers/Gray). To assess the pandemic's impact, between May and June 2020, it asked those who bought homes their priorities (noted in the following charts as 2020 Buyers/Blue):
Rent
Insight #1: The Desire to Own a Home
Between March and April 2020, 2.7 million Americans moved back with their parents or grandparents. Most of these adults are between 18 and 25 years old (2.2 million). Although students moving back home after campuses closed are a significant share, most of these young adults are being forced to move back home after losing their jobs due to the COVID-19 crisis.
The number employed Gen Zers fell by more than 25%. The rate of unemployed young adults who move back home is still the same (around 60%); however, the total number is much more significant than before. Considering that most Gen Zers who do not live at home are renters (76%), this means huge losses for landlords.
Gen Zers are not the only ones affected. A survey conducted in June discovered that 23% of respondents lost their jobs and 28% suffered income reductions. Almost half of the impacted respondents reported they would not be able to pay rent, and 46% are at least concerned about eviction.
The uncertainty and financial insecurity may be behind the increase of renters saying they want to be homeowners. Nearly half (46%) of renters stated they would now prefer to own than rent. Millennials and Gen Xers account for the largest share of those considering a new living situation. Millennials are the ones most likely to consider buying a home today (53%), followed by Gen Xers (47%).
Household composition also influences the preference, and the "increased desire to buy a home was strongest among multigenerational families (60%), single parents (53%), couples with children (51%), and couples without children (47%)." The housing type renters would prefer to buy is single-family detached homes (79%).
Single-family detached houses are also the number of choice for 40% of those that plan to continue to rent — higher for couples with children (60%), singles with children (55%), and multigenerational families (75%). As for other types, mid-rise apartments are the second choice (38%), followed by attached townhomes (14%), high-rise apartments/condos (4%), and attached duplexes (4%). Renters are also expressing an increased desire for outdoor space (70%) and larger living spaces (68%).
Insight #2: Dense Urban Areas are Losing Tenants
Renters are also considering moving away from high-density urban areas. Large metro areas are already seeing a decline in rental prices and occupancy. For instance, vacancy rates in San Francisco jumped from 3.9% in February to 6.2% in May. San Jose, CA, saw an 8% decline in rent prices.
Those living in high-density areas are far more likely to consider moving somewhere else in 2020:
Reasons vary according to financial and employment situation. Those financially impacted by the pandemic say they are looking for cheaper options, while stable renters are looking to take advantage of the flexibility that comes with remote work and declining rents.
Insight #3: Demand
Location and Market Insights
Insight #1: Remote Workers
Insight #2: Hipsturbias
As noted, the pandemic created a significant demand for suburban and rural homes, as residents try to escape high-density areas. As such, they also have a different set of priorities for these new homes. Redfin CEO Glenn Kelman, explains, "Rural demand is much stronger right now than urban demand, and that's a flip from where it's been for the longest time, where everybody wanted to live in the city. We'll see how it comes back, but there seems to be a profound, psychological change among consumers who are looking for houses."
One-third of Americans are considering relocating to less populated areas. "Urbanites (43%) were twice as likely than suburban (26%) and rural (21%) dwellers to have recently browsed a real estate website for homes and apartments to rent or buy."
Hipsturbias are suburban areas that are close enough to large cities so that commute will not take hours, but far enough to maintain a suburban lifestyle. The areas, named after millennials, are starting to attract more people, who feel like the "urban vibe just isn't what it was anymore."
Insight #3: Second-home Markets
Ethnic Groups Insights
There is limited available information regarding the attitudes and motivations of Asian Americans and White Americans. Asian Americans are a small group, accounting for only 5.9% of the US adult population. Even the Pew Research Center recognizes that it is difficult to obtain an accurate portrayal of Asian Americans' views and attitudes. By a vast difference, white Americans are the largest group of homeowners; therefore, most of the attitudes and opinions presented in this report apply.
Most 2020 reports regarding race and generation that address buyers' motivations, influences and attitudes are using data from 2019 or early 2020, collected before the pandemic. Available reports that factor in the effects of COVID-19 are generally related to financial impacts or insights already covered. The profiles/snapshots (charts) were taken from the National Association of Realtors' 2020 Snapshot of Race and Home Buying in America, which used data from 2019 to determine who these buyers are.
Insight #1: Black Homeownership
Black Americans are still suffering from redlining, predatory lending from the 70s, decades of discrimination and social inequality, and a prevalent wealth gap; historical and current events that created a scenario in which Black college graduates are less likely to own a home than White high-school dropouts.
In the first quarter of 2020, 73.7% of whites owned their homes versus 44% of Blacks, as reported by the Census Bureau. Typically, college graduates should have higher homeownership rates than high school dropouts. However, the racial disparity is so prevalent that white high school dropouts have a homeownership rate of 60.5%, while Black college graduates have 56%.
There are many reasons behind the discrepancy, most of which affect how Black Americans perceive homeownership. When a Black family is at the poverty line, they usually have a net wealth of $0. At the same time, a white family under the poverty line will have $18,000 in wealth. This difference is caused by decades of racial disparity, resulting in white families passing some wealth to descendants, while Black families are usually unable to do the same.
One of the main reasons for this gap was the redlining practice from the 20th century, which "pushed segregation, devalued neighborhoods of color and made it nearly impossible for Black people to obtain mortgages."
Redlining refers to the practice "in which a federal agency, the Home Owners' Loan Corporation, legitimized racial discrimination by creating color-coded maps for cities across the country between 1935 and 1940 that indicated risk levels for long-term real estate investment, in other words their mortgage security." Green neighborhoods were the best, while red neighborhoods were considered "hazardous."
At the time, urban areas with a large percentage of Black families were more likely to be redlined, while mostly white areas were typically considered green neighborhoods. It was nearly impossible to obtain a loan in a redlined area. As a result, Black people were continuously blocked from buying houses in the neighborhoods they lived in.
To this day, Black homeowners are "five times more likely to own in a formerly redlined" area than in a greenlined area, which typically means a diminished home equity and economic inequality. Redlining is considered one of the main reasons why Black families have less money than white families.
The Fair Housing Act (1968) eradicated redlining and The Community Reinvestment Act (1977) further outlawed the practice. However, similar practices are still happening. In 2019, Long Island's real estate agents were caught perpetrating discriminatory behavior. Similar behavior was found among Boston's agents in 2020. Some agents even refused to take black buyers to see the listings
Time did not make the situation necessarily better. In the years leading to the 2008 recession, Black people were targets of predatory lending, and were twice more likely to receive high-cost subprime loans. "Black and Latino families making over $200,000 annually were more likely to be given a subprime loan than a white family making $30,000 a year." As a result, 7,9% of Black families lost their homes, versus 4.5% of white families.
The domino effect results in Black parents being less likely than white parents to help their children with down payments. Studies show that "children of homeowners are about 7.5% more likely to become homeowners than children of renters."
The gap between Blacks and whites is expected to increase due to the pandemic.
 
Insight #2: Hispanic Homeownership
Hispanic rates of homeownership have been steadily increasing over the last few years. The group is composed mostly of Gen Zers and millennials, which could indicate an influential audience in the future. Over the past decade, Hispanics accounted for 51.6% of the overall homeownership growth and 40.4% of overall growth in household formations in the country. These home buyers are young, self-employed, and born in the US.
Hispanic buyers tend to rely more heavily on referrals from friends and family than advertising. They are also 44.6% more likely to prefer fixer-uppers than non-Hispanics.
Despite the growing rates, it is unclear what the future will hold for these buyers. Hispanics are more likely to lose income due to the pandemic, and less likely to work remotely.
Insight #3: Asian and White Homeowners
Asian Americans and White Americans are the most likely to own homes. They are also better positioned to financially survive the pandemic, as they have higher incomes, are less likely to work on the most affected industries, most likely to hold college degrees and to have more opportunities to work remotely.
Generation Insights
Insight #1: The American Dream
Insight #2: Millennials
Millennials can make or break the residential real estate market post-Covid. Not only they account for the majority of first-time buyers, they also represent the largest share of mortgage applicants. For instance, "millennials' April mortgage applications were down only 7% compared to last year, while applications among the other generations declined between 30 to 40%."
Danielle Hale, Realtor Chief Economist, explains that millennials are not immune to the economic downturn, which means a significant share will have to delay their home purchase. It is not exactly a new thing for millennials to postpone buying a home. They are a more diverse, educated generation that chose to delay previous milestones, such as marriage, children, and homeownership, to travel or further their education.
Regardless of priorities, 88% of millennials stated that "homeownership is important for personal success" in a 2019 survey.
Millennials may need better guidance. A survey conducted with 1,000 American millennials discovered that 65% are not aware of commission fees. They also do not know how long it takes to train an agent or how much money they need for a down payment to avoid private mortgage insurance. They may know they are not real estate-savvy, as only 13% stated they feel confident in buying or selling a home.
Insight #3: Generational Trends
The following charts from the National Association of Realtors' 2020 Home Buyers and Sellers Generational Trends Report show the priorities, motivations, and opinions of the different generations. The charts represent the result of a survey conducted with 159,750 recent homebuyers in June 2019, who purchased homes in the previous 12 months.
Most factors are likely to continue as priorities and motivations during and after the pandemic. The ones likely to change, such as job location, were previously explained. Moreover, the large sample ensures an accurate portrait of the generations. The survey findings are presented as charts instead of bullet points to ensure a fast and easy comparison between the generations.
Source
Source
Source
Source
Source
Source
Source
Source