According to Forbes, because of the increasing reports about misuse and breaches of data, consumers are more cautious about trusting companies with their personal information and as a result, technology companies need to prioritize transparency in order to build trust with their customers. Insights on how transparency impacts the trustworthiness of new technology in the mind of the consumer have been curated and provided below.
How Consumers Define Transparency
Trust in Technology Products
The 2019 Edelman Trust Barometer: Technology report revealed that although tech is the most trusted sector globally with the trust in tech standing at 78%, it has a weak foundation in developed markets. For instance, while 73% of Americans trust tech companies, only 36% strongly trust them and this could be because only 49% of people around the globe believe tech is putting the welfare of customers ahead of profits.
The report further stated that new technologies are hovering at the neutral-to-mistrusted category with 62% of people trusting Artificial Intelligence (AI), 56% trusting blockchain, and 55% trusting self-driving vehicles. Moreover, distrust surrounding these new technologies increased among Americans in 2019 when compared to 2018 as the distrust in blockchain and self-driving cars went up by 7%, and 3% respectively while people who feel neutral about AI increased by 8%.
The increase in distrust of new technology can be attributed to the fact that people view them as a threat to their privacy. For example, according to a PwC report, 55%, 47%, and 40% of people view AI, self-driving cars, and bitcoin as potential threats to their privacy respectively.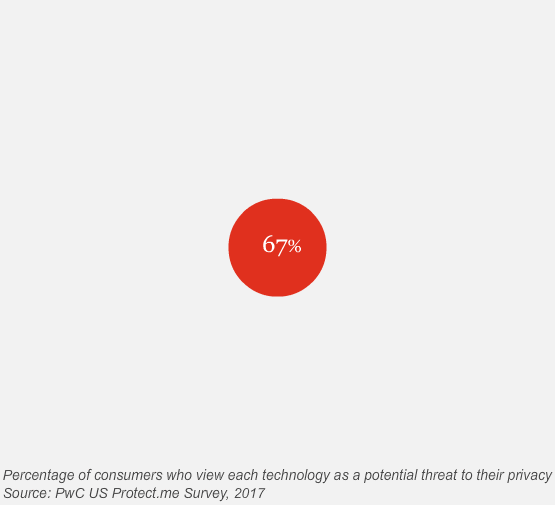 How Transparency Impacts the Trustworthiness of New Technology in the Mind of the Consumer
An article by Forrester also stated that transparency is important as it increases trust and loyalty and loyal customers are 7 times more likely to try new offerings, 5 times more likely to repurchase, and 4 times more likely to refer a company. Sprout Social also found out that 53% of consumers will consider a company that is transparent on social media platforms in their next purchases, while 42% will recommend the brand to family and friends and a further 37% will buy more products from the brand.
Transparency and trust are also important because they affect how consumers engage with brands. For instance, a survey by Measure revealed that 35% of consumers will provide limited information about themselves when completing a survey from a company they do not trust, while 32% will completely refuse to take part in the survey.
However, increased transparency can also be risky when building trust with consumers because it can bring about extra scrutiny. Buffer stated that with everyone being able to see a company's numbers among other things, they tend to make assumptions without understanding or seeing the full picture, making a business seem unhealthy.
The Harvard Business Review also indicated that transparency can cause internal issues in an organization as it can create distrust, blaming culture, resistance, and even increase cheating in some instances.
Research Strategy
Information surrounding the impact of transparency on the trustworthiness of new technology was limited in the public domain. We searched through media publications and industry reports among other credible sources to determine if we could find the direct relationship between transparency and trustworthiness of new technology in the mind of the consumer, but the information gathered was not robust enough. Therefore, we leveraged data from other sectors outside the tech industry to compile the above findings.